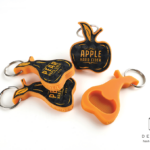 Beer opener: an original corporate gadget tailored to your needs
2023-08-21
Promotional gadgets are still important for building brand recognition and customer relationships
In a competitive business environment, building and strengthening a brand plays a key role in the success of businesses. A brand represents not only a name or logo, but also a whole set of values, beliefs and impressions that consumers associate with a company or product. Purchasing decisions are often made based on emotions, perceptions of quality and trust in a brand.
Brand building involves strategically shaping and promoting the image of a company, product or service. It aims to build a positive recognizable identifier that stands out in the market and attracts consumer attention. A strong brand can bring many benefits, such as greater customer loyalty, the ability to set higher prices, greater resistance to competition and a greater chance of success in the market.
Advertising gadgets continue to play an important role in building brand recognition and creating bonds with customers. Their effectiveness stems from their ability to reach a wide audience, their long-lasting nature and their potential to build a positive brand image. With the right selection of advertising gadgets, a company can effectively promote its brand and achieve long-term benefits.
Crocs pins: A new creative trend among corporate gadgets!
Crocs are footwear that have won the hearts of millions of people around the world. They are comfortable, colorful and extremely versatile. But what makes crocs even more interesting? The pin-stripes! With them, you can personalize and change the look of the shoes at will, creating unique combinations that attract the attention of others. It is this ability to personalize that makes crocs pinning such an effective brand-enhancing advertising gadget.
There are many advantages associated with using crocs pins as corporate gadgets:
Crocs ornaments are extremely popular and recognizable. Their use in advertisements and promotions will allow companies to take advantage of this recognizable design and attract the attention of potential customers. Crocs pin is a kind of brand mark that can convey information about the brand's style and valuaes.
The crocs pin is easy to personalize. There is a wide selection of pin designs, colors and themes, giving you the opportunity to match them to your specific brand and advertising message.
They are practical and increase reach. Crocs pins reach different target groups and locations, which increases the reach of advertising. They are also durable and weatherproof, making them ideal for everyday use and lasting brand promotion.
They are available at attractive prices,, making them an attractive promotional tool for companies with different budgets. As a result, even small and medium-sized businesses can use crocs pins to strengthen their brand and reach more potential customers.
Deckard Design launches its own creative shoe ornaments, perfect for your brand
Our company, always on the forefront of innovation, decided to create unique shoe accessories that not only match crocs products, but also blend perfectly with other similar shoes on the market.
We offer extraordinary benefits to our customers. What sets us apart?
Diversity. Extraordinary attention to detail, intricate designs, full color and personalization - unlike the competition, which offers uniform, simple shapes and limited colors. Our crocs pinners provide customers with unique style and individuality.
Unique experience. The convex texture of the crocs pin felt to the touch is a powerful expression of style. The unique texture, dimples, convexity attract the eye and allow you to express your brand message.
Original designs and ideas. We are engaged in the design and production of crocs pin. We create from scratch, we have our own original designs and ideas. We do not use ready-made, mass-produced Chinese pinners. Our pinners are carefully designed and made to ensure the highest quality and uniqueness.
High resistance to hot water and mechanical abrasion. Thus, the crocs pins maintain excellent quality for a long time, regardless of the extreme conditions of use.
Attractive prices. Whether you order single pieces or large batches, the production costs are the same. Our prices are really competitive and as much as four times lower than the original crocs.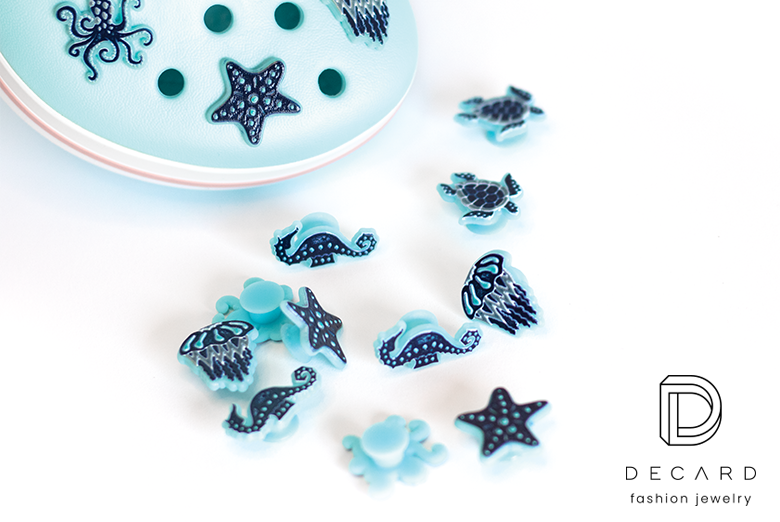 This is all made possible through the innovative use of full-color 3D printing. Thanks to this advanced technology, our crocs pins no longer need to be hand-painted or inked, ensuring that the colors will not rub off or fade during use. What's more, our products are distinguished by a unique, tactile texture that cannot be achieved using other methods, including those used to produce Crocs charms.
Full personalization - crocs pin with your own designs, initials or logo
You can order crocs pinners with your own graphic design, slogan or logo of your company/brand. You can use your own creative graphic designs to create unique crocs pinners that reflect your brand in the most original way. Or you can have us produce crocs pinners according to your preferences and guidelines. Our team of experienced designers is ready to make your vision a reality.
When designing crocs pin, we make sure that our designs are creative, fashionable and unique. Our design team consists of experienced graphic designers and designers who carefully work out every detail. We strive to make our crocs pins not only functional, but also expressive and visually interesting. This allows companies in various industries to express their own style and personality through their crocs.
In addition, we have our own equipment and advanced printing technology, which allows us to personalize the pins. We can print any designs, graphics, lettering or logos on them. Our flexibility in customization allows us to create pins perfect for different companies, for any occasion.
Discover the benefits that crocs pins can bring to your business
Using crocs pins as promotional gadgets can bring many benefits to companies. Here are some of them:
Effective brand promotion: Crocs pins with your company's logo on them can be a great way to promote your brand. Wearing them on popular crocs shoes attracts the attention of other people, which helps increase brand recognition and build brand awareness. Anyone who sees a pin on someone's shoes is likely to become familiar with the company and its offerings.
New advertising channels: Crocs pins can act as mobile billboards that can be seen while walking around town, at the mall, at events or festivals. This gives the company the opportunity to reach a wide range of potential customers who may be interested in its products or services.
Uniqueness and originality: the use of crocs pins gives a company the opportunity to stand out from the competition. Many people wear Crocs, but not everyone has pinners with individual motifs or company logos. This can make promotional gadgets more attractive to customers and arouse curiosity.
Low cost and durability: crocs pins are relatively inexpensive to produce, especially in larger quantities, making them an attractive advertising gadget for companies with different budgets. In addition, crocs are known for their durability, which means that the pins will be able to be worn for a longer period of time, extending the period in which the company is promoted.
Expanding the community: Crocs pinners can become a topic of conversation and generate reactions among people wearing them or meeting them on their way. This can lead to the creation of a community of fans who identify with the brand and can engage with it. The pins can become an excuse to strike up conversations and build relationships.
All these benefits make the use of crocs pins as promotional gadgets an effective marketing strategy for companies to increase visibility, recognition and customer engagement.
Our customers rate us 5 ⭐⭐⭐⭐⭐
As a leading manufacturer of promotional gadgets, we take pride in the high quality of our products and the satisfaction they bring to our customers. We realize that our customers' ratings are a key indicator of our success, so we aim to provide them with unparalleled service and excellent corporate gadgets.
Our customers appreciate our efforts on various levels. Our products are not only sturdy and durable, but also carefully designed to fully reflect the image and advertising message of our clients Our highly skilled and creative design team works with passion to create advertising gadgets that stand out from the competition.
An important part of our business philosophy is also to listen to the needs of our clients and customize our services to meet their individual requirements. Our sales team is always ready to help select the best advertising products for specific marketing campaigns. We make every effort to provide our clients with comprehensive support, from concept to delivery of the final product.
If you are looking for a reliable manufacturer of advertising gadgets that will provide you with the highest quality products and professional service, then you can rely on us!
Is this the promotional gadget you've been looking for?
Click the button below to go to the form and order personalized products. Start using them as innovative advertising gadgets for your brand today!
We provide:
A prototype before production begins.
Quick visualization of the crocs pin.
Możliwość zamawiania małymi partiami.
See also personalized clothes pins and clothing ornaments
The benefits of using advertising crocs pins are numerous. First of all, they are an effective way to build your brand and increase your company's visibility. It is worth mentioning that crocs pins are a flexible product that can be customized for different purposes. They can be used in promotional campaigns, events, trade shows or as identification items for employees. The wide range of available sizes, shapes and colors of the pins gives you the opportunity to match them to your company's specific marketing strategy and aesthetics.