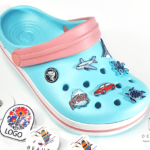 Strengthen your brand: Crocs pins as innovative advertising gadgets
2023-08-21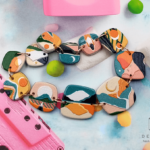 Decard at MIDORA 2023 Fair: Discover the jewelry of the future in innovative style
2023-08-24
Three-dimensional design, solid workmanship, intense colors and full personalization
In today's business world, where competition is increasing, it is important to stand out from the crowd and attract the attention of potential customers. The right way to do this is to invest in original corporate gadgets, which are not only practical, but also have a unique design, corresponding to the character and aesthetics of the brand.
In this context, we would like to present our unusual product - the Decard bottle opener. Our openers are not just ordinary tools for opening bottles, but also unique advertising gadgets that are sure to attract the attention of your audience.
Bottle opener with personalized style: Choose originality and unique design for your brand
Individual design: the bottle opener features an original style that allows customers to stand out from the competition. We offer products that are different from standard mass production. This allows customers to create original promotional gadgets that will attract the attention of their audience.
Unique texture with noticeable protuberances and indentations: The beer opener features a specially designed surface with a tactile 3D texture. This is an innovative feature that sets our products apart from others. The protuberances and dimples not only give the openers a unique look, but also allow users to feel subtle nuances when holding them in their hand. This is an element that makes using our products not only a practical activity, but also a pleasure for the senses. Thanks to this unique texture, our bottle opener receives a unique added value. Customers can enjoy not only a functional tool, but also an aesthetic element that delights both by sight and touch.
Personalization: we provide unlimited personalization possibilities. Customers have full freedom to choose the shape, color, design, and placement of the company logo, slogan, slogan or other inscription. This allows them to perfectly match corporate gadgets to their brand and advertising goals. Our flexibility gives customers unique tools to build brand recognition and create a positive image.
Durability, reliability: The quality of our openers is our highest value. The materials used and careful workmanship ensure the durability and sturdiness of our products. Customers can be sure that the advertising gadgets we offer will serve them for a long time, reinforcing the durability of the advertising message.
Our range of bottle openers provides individual design, unique surface with tactile 3D texture, personalization, strength and sturdiness, any shape, vivid and saturated colors. We give you the tools to make your advertising gadgets not only an effective advertising message, but also unique items that will attract the attention of your audience and stay with them for a long time.
Discover the variety of Decard openers: practical tools and stylish branding pieces for your business!
For bottles, openers are available in different variants, both in terms of material of construction and functionality.
You will find innovative 3D spatial effect beer openers made of plastic and sturdy metal openers.
We give you the opportunity to customize their shape according to your own preferences. In addition, our openers can be equipped with practical additional features, such as a magnet that allows them to be easily stored on metal surfaces, such as the refrigerator or kitchen countertop, or a key ring.
The metal bottle opener is sturdy, durable and resistant to mechanical damage. It is an ideal advertising medium and business card for your company. It will prove useful both as an elegant gadget handed out during events or company parties and as a gift for employees or contractors. High quality workmanship and high durability of the product guarantee long time of use.
The plastic bottle opener is lightweight, durable and available in various colors and designs. The plastic is flexible and resistant to damage, making it a good choice for openers that are frequently used and subjected to heavy use. The bottle opener is not only a practical tool, but also an attractive branding element for your company.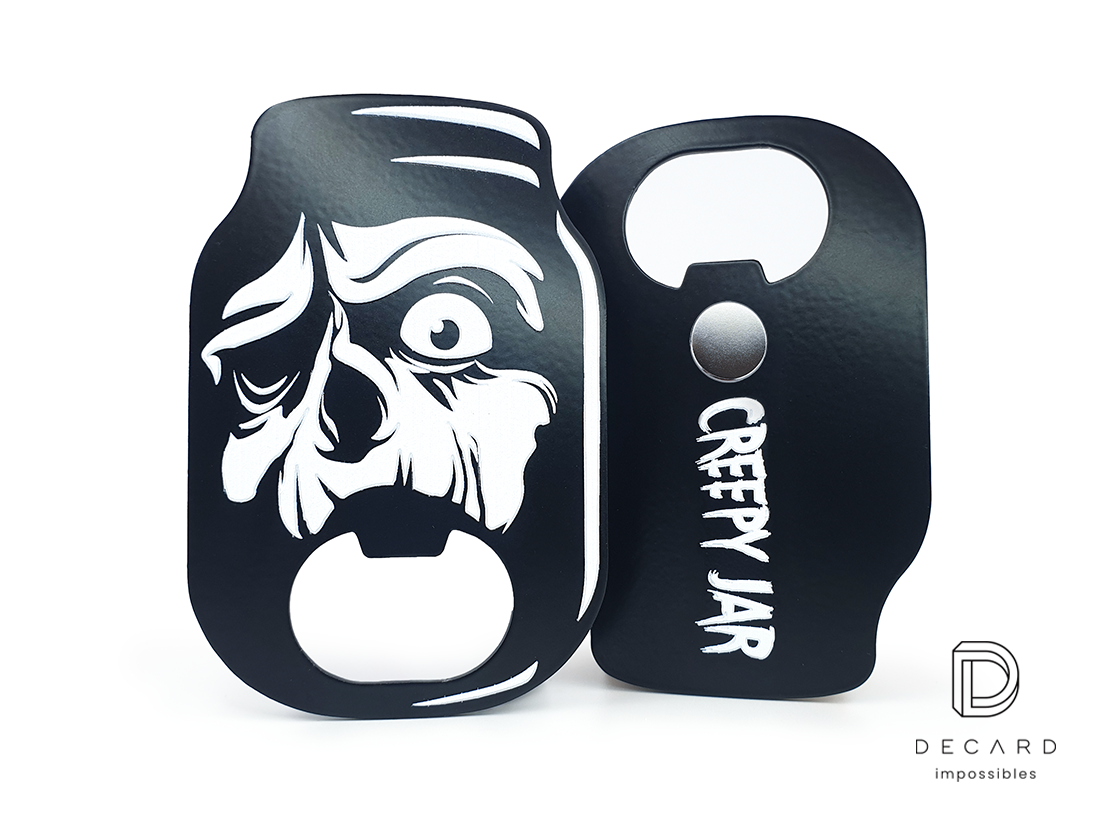 Bottle opener with 3D plastic surround effect
Bottle cap opener, with magnet
Single-sided and double-sided bottle opener
Apple-shaped bottle opener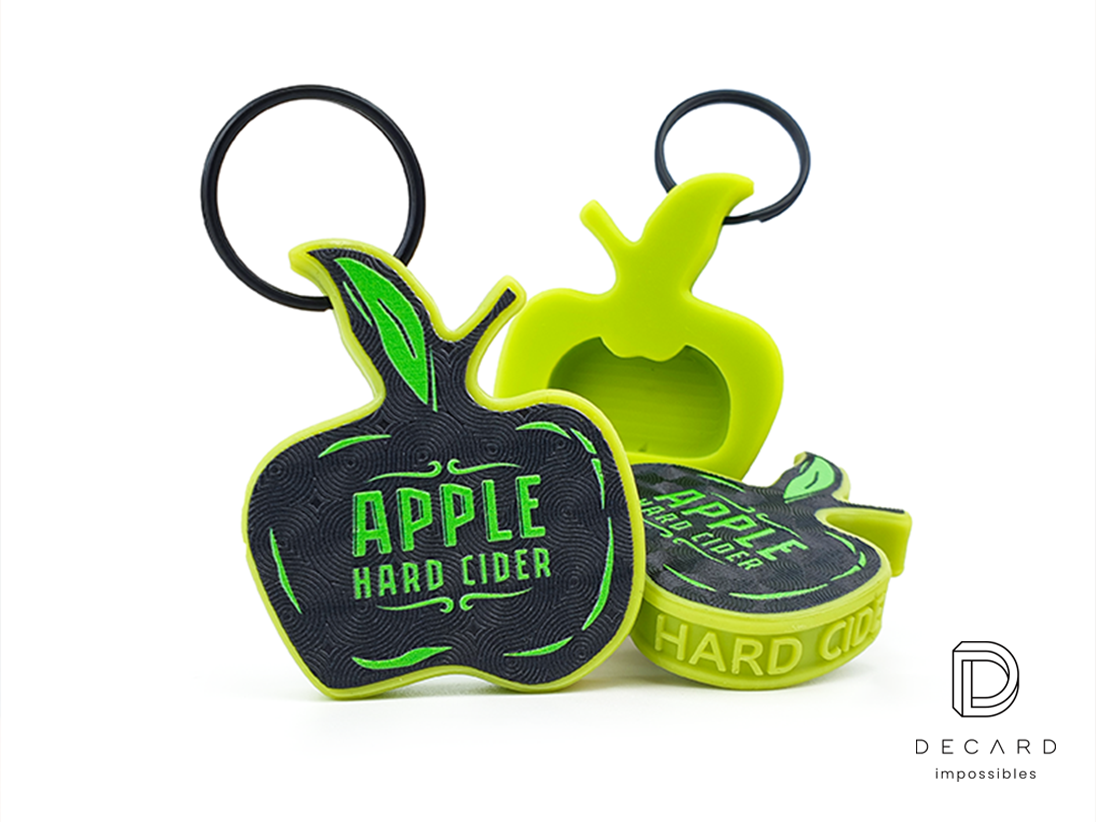 Bottle openers with polish quality and personalization - 5 benefits that our customers appreciate!
We offer a wide range of bottle openers, and ordering from us brings numerous benefits, guaranteeing excellent quality and flexibility of personalization. Here are 5 main benefits that our customers especially appreciate:
Design and production in Poland: Our openers are designed and manufactured in Poland, which guarantees high quality workmanship and attention to detail. Thanks to local production, we can also ensure fast delivery and shorten the lead time - usually up to 14 days. We design and create unique openers for our clients. Just send us your company logo or guidelines and we will create an original bottle opener with cap.
Fully personalize the product: we can make the opener in any shape, with a unique texture perceptible to the touch, place a logo, slogan, slogan or design as concave or convex elements inside the bottle opener. This is a great way to promote your brand and create personalized gifts for customers or business partners.
No additional preparation costs: Unlike some other suppliers, we don't charge extra for order preparation. This means there are no hidden costs or unpleasant surprises. We focus on transparency and honesty in our relationship with our customers.
Free samples and product visualization before production: You can test the quality of the bottle opener and see how it will look with your logo or design.
Possibility to order smaller batches of bottle cap openers: The minimum order quantity is 50 pieces, regardless of whether you choose plastic or metal bottle openers. This gives you the opportunity to order smaller batches, ideal for promotions, company events or employee rewards. We are a flexible partner ready to adapt to your requirements.
When you choose our bottle openers, you not only get functional bottle cap opening tools, but also an effective form of brand promotion and unique gifts for your customers. Trust our experience in the industry, we are sure to meet your expectations.
Discover our unusual creation at the 13th Wrocław Festival of Good Beer: An opener that ignites thirst!
We are proud to have made our contribution to the 13th Wrocław Good Beer Festival by creating a unique beer opener that not only made opening bottles easier, but also conveyed the spirit and atmosphere of this wonderful event. Customers and guests of the festival were delighted with the quality of our product and its original design, which perfectly matched the atmosphere of the event.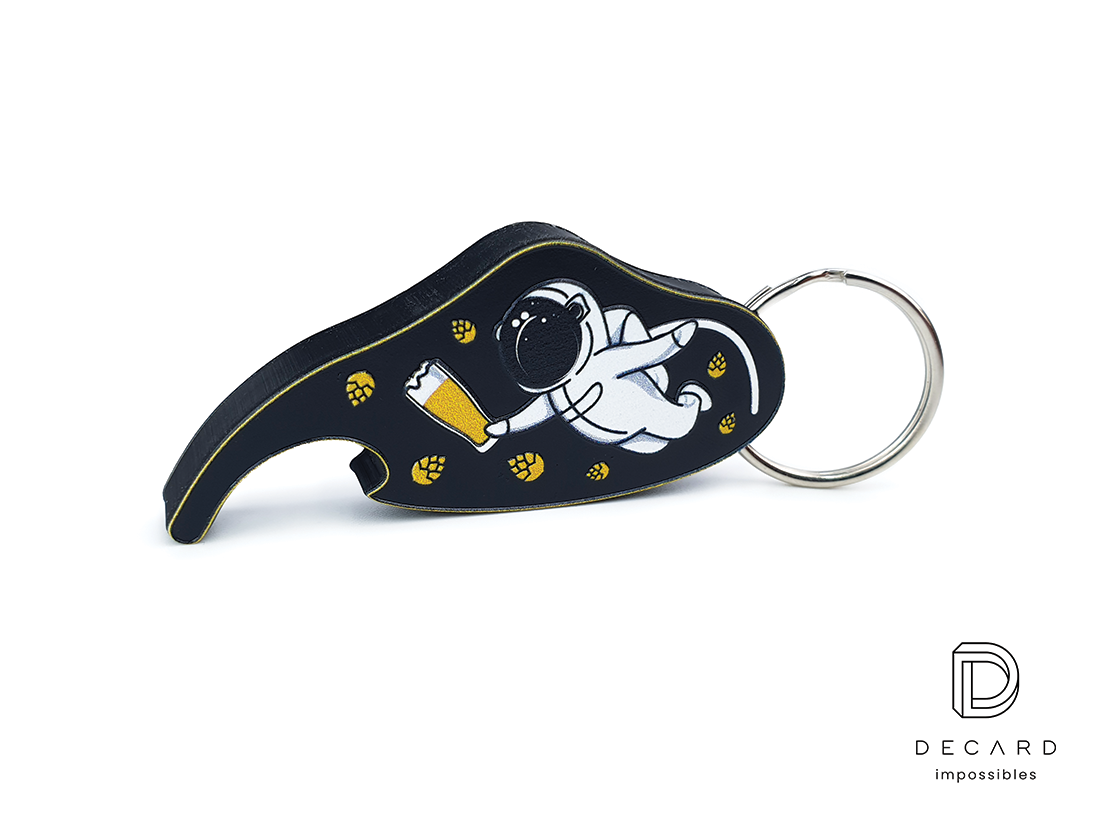 Want to know how our bottle opener would look with your logo?
Use our product visualization!
Click here to see your design→.
We provide:
Free samples.
A prototype before production begins.
Quick visualization of the crocs pin.
Possibility to order in small batches.
Decard bottle opener is a good idea for an advertising gadget, because it meets 100 percent of its criteria, stands out from the crowd and effectively attracts the attention of potential customers. With such an opener you can successfully build a brand and promote your business. If you are looking for other personalization options than a printed bottle opener, other products than a wall opener, funny openers, then you have come to the perfect place. Only original advertising gadgets, accessories are a great way to reach customers and keep their attention. We invite you to cooperate with us.