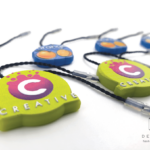 DECARD: Unusual clothing accessories at Textile Fair London 2023
2023-08-24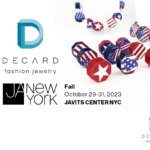 Exciting news from DECARD at JA New York Fall 2023 Fair
2023-10-27
Your brand deserves the Best!
Are you ready to discover innovative possibilities for your brand's visual identity? If so, we have something special for you. On September 13-14 we invite you to the International Advertising and Printing Fair, where you will find our DECARD booth number I2.
We create unique, completely one-of-a-kind gift and/or utility products with logos that help companies express their identity in a unique way. We provide our services to a variety of clients such as advertising agencies, branding agencies, event agencies, sports clubs, political parties, manufacturer brands, HoreCa companies and many others.
Waiting for you at our booth are:
Gadget and gift products:
3D keychains

with an amazing spatial effect.

Openers

with a magnet, in the form of keychains, metal.

Pins

in vivid, intense colors that attract attention.

Pins

with original and unusual shapes that stand out.

Magnets

with precisely reproduced micro-metals, creating unique advertising accents.
Elements of branding on products:
Colorful tags

, that perfectly match your logo.

Hang tags

, that add a sophisticated finish to your products.

Buckles

, that provide a durable and elegant closure for your packages.

Fasteners

, that allow you to easily and stylishly connect your brand elements.
Hardware items and utility accessories:
Plaques

with a variety of forms and functions.

Stands ,

that present your products in an attractive way.

Number plates

, that make identification and organization easy.

Hotel hang tags

, adding elegance and professionalism to the hospitality industry.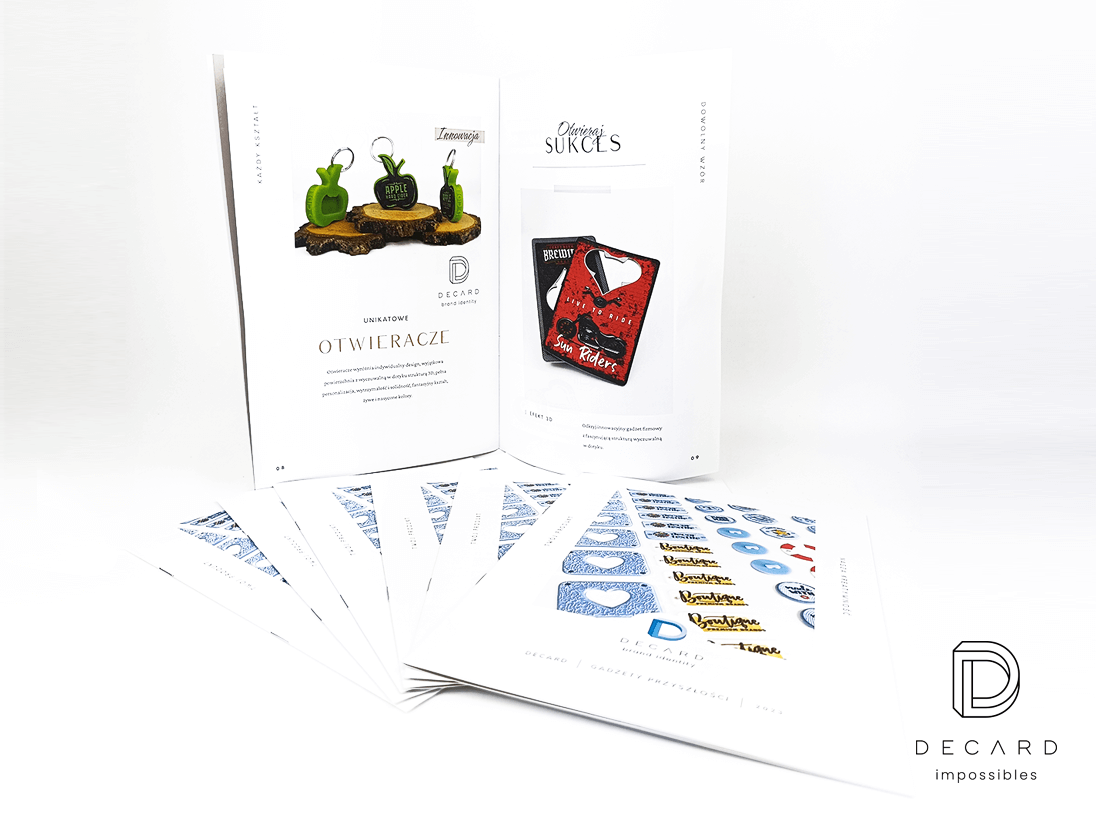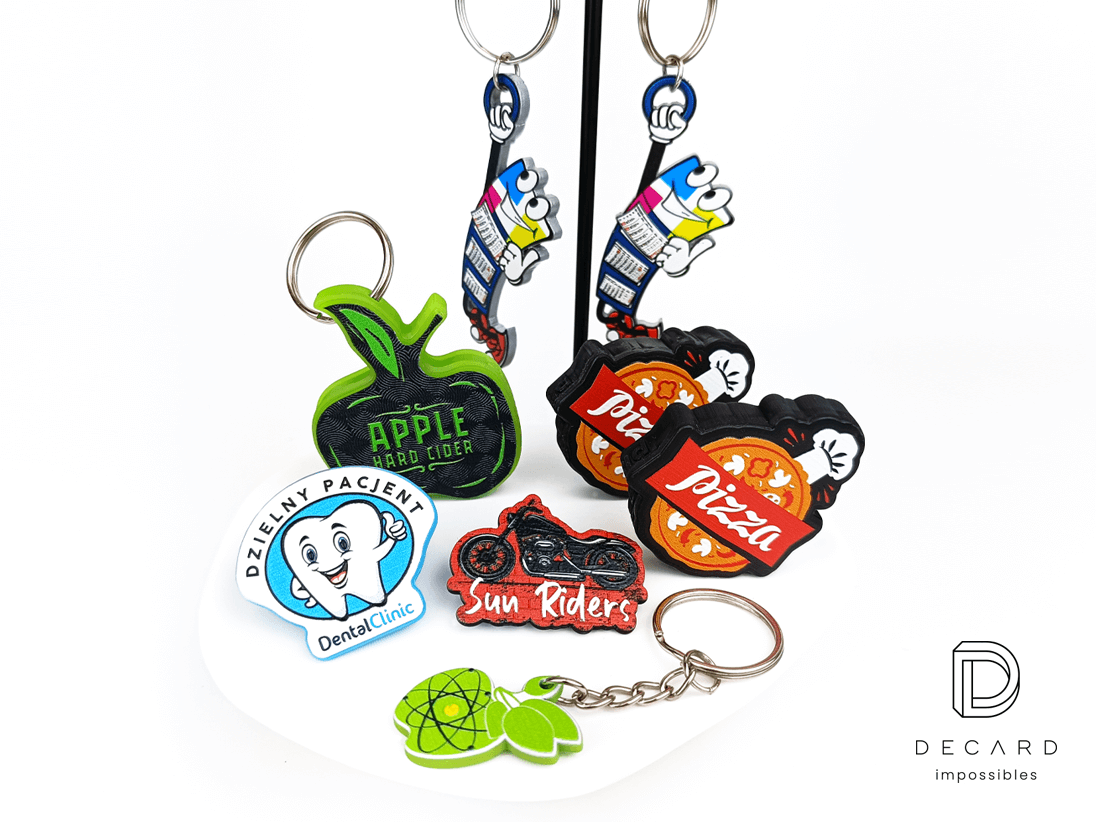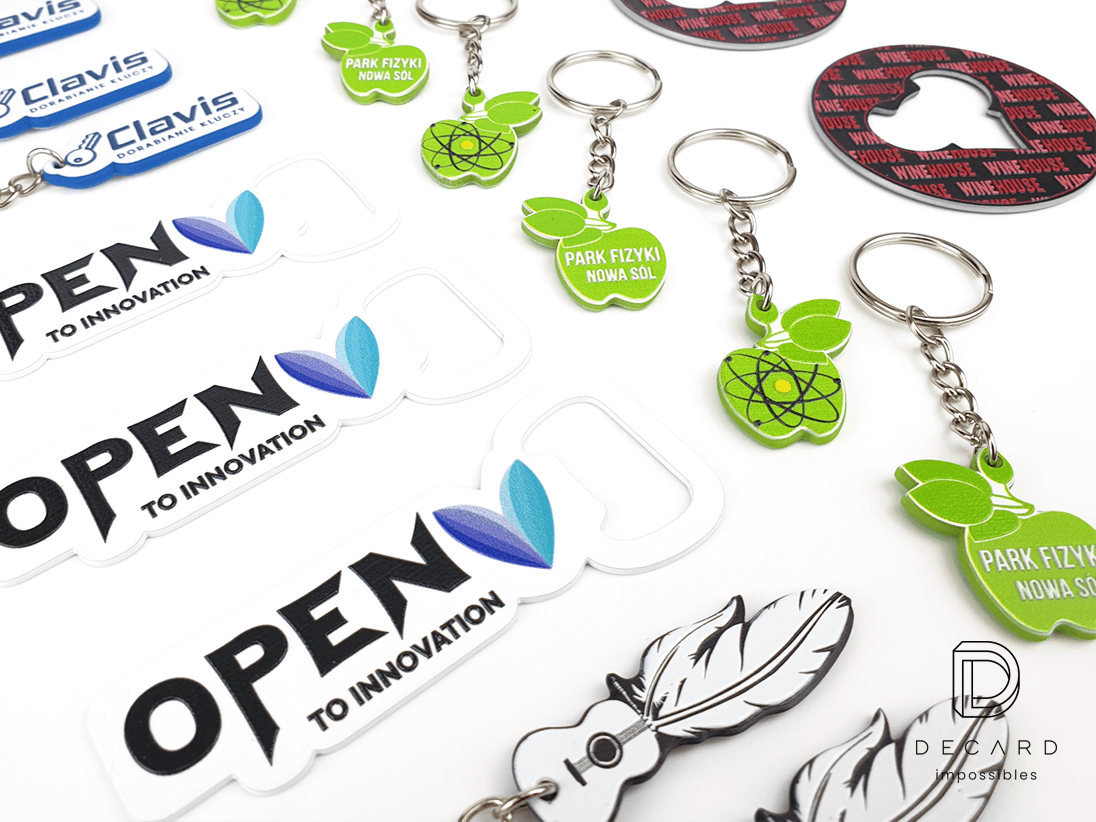 Limitations do not exist - Decard introduces revolutionary advertising gadgets in 3D technology
Our products are distinguished by innovative 3D technology, which gives them a unique character. We can create advertising gadgets with saturated colors and interesting forms that are consistent with your brand. Decard's proprietary technology opens up new horizons. It is more than an innovation - it is a revolution.
In personalization, we are not limited to just applying a logo. Our approach goes beyond those standards. It's a process that allows us to create something completely unique that not only distinguishes your brand, but also builds a lasting relationship with your customers and attracts new ones. It's a chance to create something unique, emphasizing quality, innovation and individuality in ways that previously seemed impossible.
Decard introduces full personalization, which means:
Bold, creative spatial forms.

Fancy shapes.

Unique surface with tactile 3D texture.

Precise details.

Vibrant, saturated colors.

A variety of finishes.

Unique embossing and reliefs.

Perfect imitation of any material (such as wood, concrete, denim or gemstones).

Any text, slogan or graphic that defines your brand.
And it doesn't end there! We have prepared surprises and exclusive Christmas offers for you at the fair.
Let us help you build a strong relationship with your brand and make it unforgettable.
Come to the Fair on September 13-14 and visit our DECARD booth #12.
Together we can achieve a lot. Discover a new dimension of promotional gifts with DECARD!